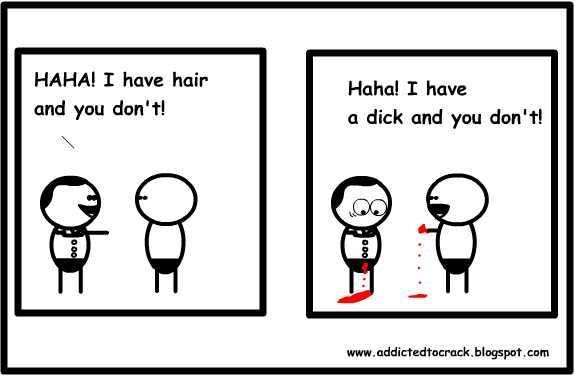 Well, at least he has hair.
p.s. I know that this is a fucked up comic
Click here to spread the word
Anyway, 2 of my colleagues
recently found out about 2 permanent injuries of mine.
Being geniuses,
they kept repeating "but you're so young!"
and "you shouldn't be lifting weights!"
Holy shit really??
I never knew there was an age requirement
for major injuries!
Guess I missed the memo
before I got hospitalised. Twice.
How stupid of me!
And I shouldn't be lifting weights?
Not even to strengthen myself
to prevent aggravation to the current
injuries??
HOLY FUCK!
I never knew that!
Neither did my physiotherapist (who was smokin' hot, by the way).
THANK GOD for these enlightened people!!
Now please excuse me
while I bang my bald head against the wall.
Later